Despite all the festivities that come with the run up to Christmas it is still business as usual here at Hog Roast Tavistock. And for us business as usual simply means providing delicious, heart-warming food up and down the country!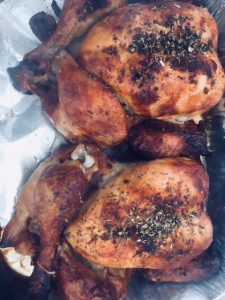 This weekend we were catering locally for one of our newest customers Jade. Jade had told us when she called to book that she was planning a birthday party for her grandpa who was turning eight five years old and so she wanted to do something special to celebrate! Her grandpa, Jim, had been a chef in his youth and so throughout life had always been an avid foodie. However, unfortunately after the death of his wife five years ago he hadn't been able to get out much and so hadn't been able to experience food that made him go "WOW" for some time. This is where Hog Roast Tavistock had to step up to the mark. Jade was confident, having read our reviews, that we would be able to provide something that would really impress Jim and make it a birthday to remember. The pressure was certainly on…
For this Hog Roast Tavistock feast, we were catering from Jades back garden and under a gazebo luckily as the autumn weather can never be relied upon. We had gone for our southern slow roast menu to showcase everything that Hog Roast Tavistock can do and to hopefully impress Jim with our marinades and slow cooked meats that are just packed full of flavour. On the menu was our signature BBQ Pork Butt that simply melts in the mouth, Texan 24 Hour Beef Brisket and some Cajun Spiced Whole Roast Chickens for extra measure. Along with this we would be serving our chefs secret recipe mac and cheese, plenty of corn cobettes smothered in butter and a delicious crunchy coleslaw to top it all off!
When Jim got a taste of our food he was delighted, saying it had been a long time since he had experienced food this good but that the wait had certainly been worth it! We were beyond thrilled to hear this and made sure to wrap up the leftovers for Jim to keep enjoying over the next few days…