Hog Roast Tedburn St Mary's latest event was a very fond farewell between work colleagues, retiring staff member Angie was treated to a special buffet by her manager Tabitha. It was a very sweet, very kind event that the team felt thrilled to be a part of.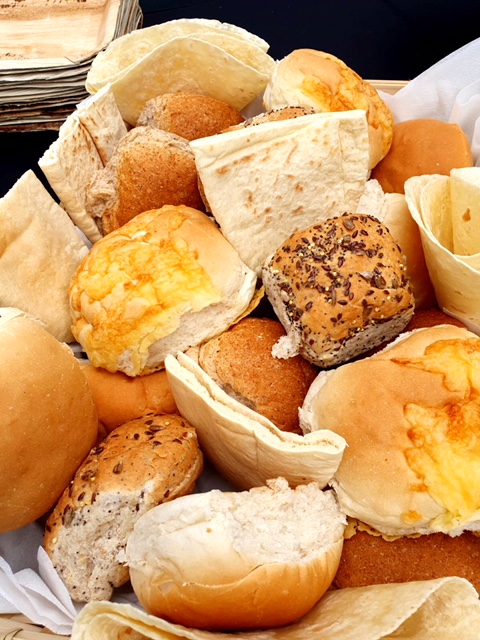 Client Tabitha wanted a simple menu for the event, it was taking place at the end of the working day at the office. The guest list was 8 people, all of whom had worked with retiring Angie for many years. The Client thought that a little party would be a most suitable send off to their loyal, hardworking team member.
Chef Luke from the Hog Roast Tedburn St Mary team arrived at the office where the party was taking place several hours before the 5pm serving time. He was able to set up the cooking equipment, gazebo and lights in a reserved parking bay, just near the entrance to the offices. It was there that Chef Luke created the buffet for the event. Every dish was made fresh from scratch by hand by Chef Luke.
The menu was a simple one. There was a Classic Hog Roast: a slow spit roasted pig that was scored and sizzled in the Hog Roast Machine under Chef Luke's watchful eyes. This was served with crispy crackling, homemade stuffing, apple sauce and a selection of soft gluten free rolls. Also on offer at the serving table was grilled vegetable wraps and grilled vegetable and halloumi wraps, alongside an assortment of sauces and dips for the guests to try. Finally finishing off the buffet was a mountain of chips, which were a mix of regular and sweet potatoes.
The buffet went down a treat with the guests and special guest Angie. Client Angie was thrilled, it had been a perfect meal for a very sweet retirement party. Client Angie was especially pleased when she didn't have to worry about tidying up as all the waste was disposed of by Chef Luke and the Hog Roast Tedburn St Mary team.