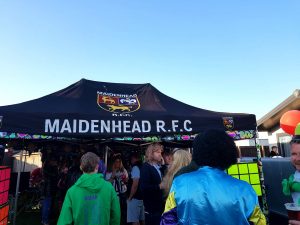 Hog Roast Burnham-on-Sea were recently invited to cater at Brean Sands for over 500 guests at a local rugby tournament.  Brean Sands is in a wonderful location on the coast in Somerset near Burnham-on-Sea and we were thrilled to be involved in this event.  Catering for this type of function is something that Hog Roast Burnham-on-Sea excels at alongside catering for weddings and corporate events and a selection of menus is available that will ensure that guests will always go away fulfilled and satisfied that the food that they have eaten has been high quality, delicious and with a professional service.
Hog Roast Burnham-on-Sea has a selection of six menus for private functions; Slow Roasted Hog Served in a Roll, Southern Slow Roast Menu, Slow Roasted Hog served with Fresh Salads or Vegetables, Hog Roast Alfresco Dining, Formal Indoor and Outdoor Dining options and Formal Sit-Down Catering.  It was clear upon discussing with the client that it would be a very informal event with a very large number of people wanting food; disposable plates and cutlery and a "hog in a roll" is the usual fare for this type of event and this would certainly be the case here!
We arrived well before the event was due to start and liaised with the organiser to discuss set-up time and access for loading which was pretty straightforward; we set up at the Unity Holiday Resort and as we would be catering for around 500 guests we certainly wanted to ensure that there would be enough food to go around and brought two, 70kg pigs to be roasted.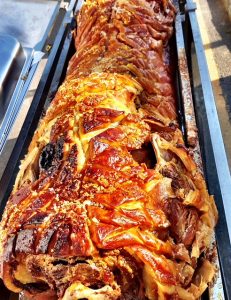 Once the guests started arriving we got the hog roast started so that everyone could smell the mouth-watering aromas to get the stomach juices flowing and this created immediate interest with many guests chomping at the bit to eat some of the delicious hog.  Rugby players are renowned for their ravenous appetites and this was no exception; many of them came back for seconds… and thirds… and maybe more and we had so many compliments about how flavoursome and delicious the food tasted.