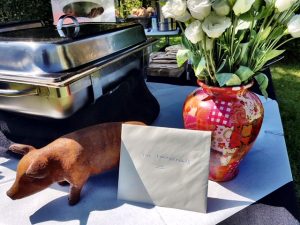 At Hog Roast Shepton Mallet, we believe in providing excellent service and tasty food at a great price but we also believe in the personal touch when it comes to our customers. That's why when you hire us to cater your party or event, we like to put up relevant bunting so that the venue is more festively decorated and we always surprise the host with a bunch of flowers and a card. Although I guess it's not a surprise now!
For a christening that we catered at the gorgeous Birds Hill Farm in Upton Noble, our catering team at Hog Roast Shepton Mallet were asked by Claire to provide plenty of pigs in buns for 50 guests, as well as a vegetarian option. We really do want all of our customers and their guests to be well-fed with delicious food, whether you're a carnivore or not and also if you have any allergies or intolerances that need taking into consideration. For example, gluten-free guests can still tuck into our pigs in buns, as with advance notice we can provide suitable bread rolls – and the other guests won't even know any different. For this special occasion, Claire wanted a vegetarian option of vegetable and halloumi skewers, pitta bread and our delicious, homemade tzatziki sauce; this option always proves to be a hit with veggie guests.
We arrived in the morning as we would be serving the food around 1pm, and it takes a good few hours to roast a hog. While we can roast off-site if needed, people tend to love to see the spectacle of a centrepiece hog roast sizzling away in its own juices, filling the air with scrumptious, meaty smells while doing so, and on this day, our pig would get many admiring glances. We set up our equipment, put up the gazebo and prepared the hog to be slowly roasted to perfection.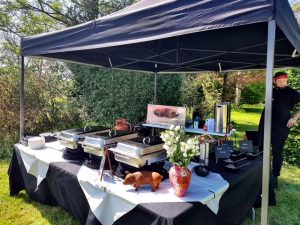 Nearer the time of service, our Hog Roast Shepton Mallet team got stuck in preparing the rest of the food and arranging it well on the serving tables, which we'd smartly dressed. There were even cute chalk boards letting the guests know what was what, including one for the vegetarians, pointing out what their food was. Finally, everyone could heartily enjoy our lovely food in the sunshine.