When you book Hog Roast Teignmouth for your party or event, you get amazing food served by dedicated professionals and at a price that simply can't be beaten. We're renowned for preparing, cooking and serving hog and spit roasts but we're also known for so much more, including barbecued meat, marinated meat and options to cover all kinds of special diets – and not just more meat dishes. For instance, if you're organising a special occasion and you have guests who are vegetarian or vegan, you can rest assured that they will be able to eat our delicious food as well. Just let us know in advance and we can let you know the various choices that are available, such as veggie kebabs, stuffed mushrooms or peppers or quiche. We also make sure that other diets are covered too, such as gluten-free. You may be surprised to find out that your gluten-free guests can enjoy our succulent pigs in buns just like everyone else, as long as know beforehand so we can bring along gluten-free bread rolls.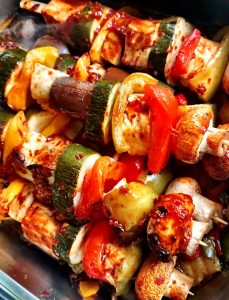 For a wedding that we catered recently, Hog Roast Teignmouth was asked to cook a centrepiece hog for the buffet main course of pigs in buns, to serve alongside two potato options and four salads. Additionally, the wedding co-ordinator Mary asked us about our options for special diets, as there would be a vegetarian guest and a gluten-free guest. Mary was very surprised to hear about our many alternatives and after speaking to the couple, she called us back to ask us to provide suitable buns so that the gluten-free guest could eat the hog roast rolls and for veggie skewers to be served to the vegetarian guest. Our veggie skewers are full of halloumi and vegetable chunks which are grilled to perfection and then served with a tzatziki dip and pitta bread. They're very popular with vegetarians and we can easily make them vegan by not adding the cheese.
On the day of the wedding, Hog Roast Teignmouth impressed the happy couple and the majority of their guests with a lovely meaty feast and the gluten-free guest personally thanked us for ensuring she could eat our delicious pigs in buns, while the vegetarian guest was just as thankful that he could enjoy our homemade delights too.