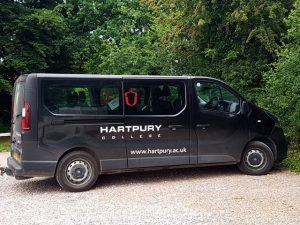 Hog Roast Sidmouth often caters for parties and events in the area and further afield, and sometimes we even cater for the same event twice in one day! We did just this for a group of 20 students recently, who were on a course and based at the 1st Sid Vale Scout Group centre in the Salcombe Regis Recreation Field. The centre and its surroundings are excellent local resources that enable young people aged between 6 and 18 to try out activities including hiking, climbing, camping, archery, life skills and cooking and these students were there for trekking and camping.
Tim organised for our Hog Roast Sidmouth team to cook two feasts for the students. In the morning, we would make them yummy bacon and sausage sandwiches for breakfast, and then when they returned from their trek in the evening, we would serve our tasty hog roast rolls (or pigs in buns, as we like to call them). To make pigs in buns, we roast a hog from scratch, then serve the meat and crackling inside floury bread rolls (or wraps, if preferred) along with our own apple sauce and stuffing. They are delicious!
On the day of the 30-mile trek, our chef Jane cooked up a storm at breakfast and served the meaty sarnies to the hungry students, ensuring they would have plenty of fuel for the long walk ahead. The sandwiches were served together with orange juice, tea, and coffee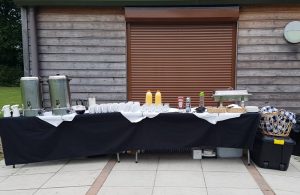 and then they set off, for a full day ahead.
While the students were miles away, our Hog Roast Sidmouth chef Martin started preparing the hog roast for the evening meal. It takes several hours to cook a pig to perfection, where we get salty, crunchy crackling on the outside and the insides all juicy and tender, so Martin got cracking by scoring the hog, covering in water and massaging in plenty of salt, which makes the crackling. Some hours later and there was a really hungry crowd to feed, and no wonder after all that walking, and Martin served up some truly scrumptious pigs in buns to some well-deserved guests.