As a chef, I love to use my skills to help our customers have a fantastic time, for whatever reason they've hired us and however large or small the event or party is. We've catered for a handful of guests as well as several hundred, so no number is too large and not even too small. When it comes to wedding food, we've been kept busy providing succulent hog and spit roasts for many years now, and we've covered both intimate occasions and huge affairs, and sometimes there's been a theme, too.
For Marianne and Boyd's wedding, they opted for the theme of Game of Thrones, so what better food to showcase this at the reception than with an amazing Hog Roast Thorverton! The couple are big fans of the hit TV show and it inspired them for their big day, as they decided to dress up as characters and ask their guests to do the same. When it came to the food, only a Hog Roast Thorverton would do, and these customers of ours opted for a winter warmer feast for their main menu – lovely comforting food for these chilly days.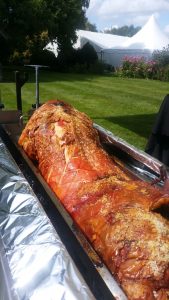 In addition to the Hog Roast Thorverton, which we would cook for several hours until golden brown on the inside and moist and tender on the inside, the winter warmer would feature freshly-roasted carrot, swede, and beetroot, new potatoes with a herb butter and lashings of our onion gravy. We would first welcome the guests with glasses of bubbly and goblets of ale, and serve a seated starter of chicken soup and bread rolls. Following the main course, which we would serve buffet-style, it would be time for the guests to enjoy the couple's wedding cake, the design of which was a big surprise.
Our team arrived to a village hall that had been suitably decorated in style and we roasted the meat for a good six hours. Once the guests arrived, to the tempting aromas only a roasting hog can produce, we welcomed them in and freshly prepared more food. After chomping away on our scrumptious offerings, which Marianne and Boyd were delighted with, the couple brought out their stunning wedding cake – an Iron Throne cake, decorated with dragons breathing fire. It would have been a shame to cut into it!