The seaside resort of Woolacombe often plays host to weddings throughout the year, even in the chilly winter. As renowned caterers, we see newly-wed couples at all times of the year, and a winter wedding isn't as rare as you might think. North Devon's Woolacombe is such a gorgeous place to get married, too, whether you choose to say your vows on the pretty beach itself or in one of the many picturesque churches dotted around. There are some really wonderful venues for your reception party in Woolacombe as well, from posh hotels to barns, country inns to mansions. Even though we may seem biased as we're based locally in this beautiful part of the world, we don't think there's a better place to get married or to start your married life together.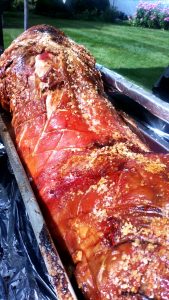 Sammy and Simon, locals and long-term customers of ours, called us to arrange a hog roast Woolacombe feast for their wintry wedding reception after getting married at one of the lovely churches recently. We were very happy to hear they were tying the knot, as we've catered various personal events for them in the past, as well as some corporate ones for Simon's business. In terms of their wedding meal, the couple wanted a centrepiece hog roast Woolacombe, with a vegetarian option for two guests, and for that, they chose a hot mozzarella and vegetable quiche. The starter of fresh homemade butternut and orange soup would be suitable for all the guests. Alongside the meat or quiche, guests would have seasonal vegetables and new potatoes with rosemary and garlic, and the carnivores could add lots of apple sauce and crackling to their hog roast.
The hog had been roasting for several hours by the time we welcomed the guests with glasses of mulled wine to help warm them up. While the bride and groom were busy being photographed at the stunning beaches, our team then got to work preparing the rest of the fresh food, including salad leaves and coleslaw, and then it was finally time to welcome the newly-weds to their party.
The romantic candle-lit reception was a great success, with the food being a big highlight – in particular, the hog roast Woolacombe, of course. Dessert of sticky toffee pudding followed the main course, but many guests were too full from their multiple helpings of our succulent roasted pork.