As a chef, it always warms my heart when I'm personally thanked for a job well done but it's especially wonderful (and rare) when the person thanking me is actually a child. We catered Joshua's 12th birthday party over the weekend. He's quite obviously a very caring and thoughtful person but it very caught me by surprise when he thanked me for providing tasty food for his party and for going above and beyond with my service. At The Spitting Pig, this is our aim (to provide great food and great service), so for it to be recognised by anyone we cater for is terrific; for it to be recognised by a child is very touching.
Joshua's birthday celebration was held at his lovely family home, which includes an immaculate and huge back garden where we set up the gazebo, serving station and hog roast machine. For the 60 guests, which included family, friends and neighbours, we had a 50kg pig, which would be more than big enough to feed them as Joshua had requested a hog roast in Riddlecombe. It takes a few hours to roast a pig this size, so our team arrived early in the morning to set up and prepare the pig for cooking.
Joshua clearly loved watching the entire preparation, with me scoring the pig before adding water and smothering it in salt. I talked him through why we do this (for example, the salt produces the crackling which is always a big hit with our customers) and he said he was glad that he'd learned something useful that day. He also thanked us for educating him more about where our food comes from and how we can use just about all the meat from an animal so that nothing goes to waste.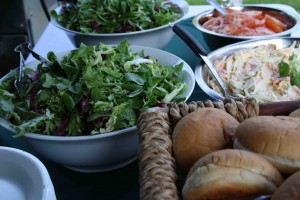 Once the hog had been prepped, I just had to keep a watchful eye on it while cooking. Later that morning, it was time for us to cook the new potatoes in a herby butter, chop up the fresh salad items and slice the bread rolls. It was mainly a hog roast sandwiches affair, with apple sauce and stuffing crammed into the rolls, together with the carved meat and crackling. All the guests, young and old, were clearly happy with Joshua's birthday hog roast in Riddlecombe, and we were more than happy with our job well done.