Although we've been in the hog roast catering business for many years now, sometimes customers still surprise us. Over the wet weekend, we catered for a lovely family who were all celebrating by holding an adoption party, now that they have officially adopted baby Poppy. After fostering children in the past once their own children had grown up and left home, David and Liz then decided they wanted to help by giving a child a permanent home. Along came Poppy and after a lengthy legal process, she was announced as an official member of the family. The couple knew then that they wanted to throw an adoption party, partly to celebrate and partly to spread the word about adoption and fostering and helping children in need.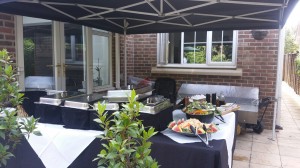 We talked through our many different menus with David and Liz and they decided on our Private Party Menu 1 of hog roast rolls. A clear favourite with many of our customers, our pigs in buns consist of lovely pieces of slow-roasted pork, bits of crispy crackling that we slice off the outside, tasty apple sauce and our popular homemade stuffing. You can add condiments to your sandwiches, which we bring along, too, and we also always have a good supply of napkins. The latter are often needed with our overflowing buns of goodness!
We cook a hog roast in Chulmleigh right in front of you and your guests, so you can be sure of absolute freshness, and we source our pigs from the best local suppliers of quality meat. Some hog roasters cook in advance of an event but it really never tastes the same when heated up. As well as affecting the taste, it also affects the aromas as well, as the smell of a freshly cooked hog roast in Chulmleigh is amazing and you just can't beat it.
For Poppy's adoption party, we catered for a smallish party of under 20 guests, and cooked the pig in the back garden of the family home. Despite the dreary weather, the hog roast in Chulmleigh was still a big success, as we cooked it under the gazebo and the guests used umbrellas outside or passed food through windows for guests who preferred to eat indoors instead!