As caterers the Hog Roast Kilkhampton team are no strangers to providing a whole host of tempting, tasty treats for wedding receptions. But the team felt especially privileged when they were contacted by a local couple and hired to cater their intimate wedding reception.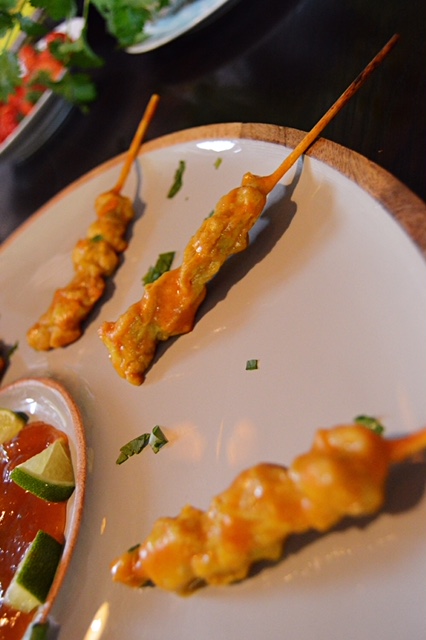 The clients wanted a fun buffet for their 50 close friends and family to enjoy. The whole feeling of the event was one of romantic minimalism. As such, the clients wanted the use of Hog Roast Kilkhampton's reusable wooden crockery and cutlery for their event. The team were only too happy to create a uniquely catering package for the happy couple to allow them to make specific choices regarding the catering for their big day.
The clients worked closely with the Hog Roast Kilkhampton catering manager to concoct a menu that pleased them. This menu included: a Classic Hog Roast with the usual Apple Sauce, crispy crackling and homemade stuffing and Thai Chicken Kebabs and meaty marinated spare ribs. However, the clients did not forget their vegetarian guests; a vegetarian option of grilled vegetable wraps with a variety of dips was made. Other delicious items on the wedding reception menu included a fresh green salad, crunchy coleslaw and jacket potato wedges.
On the big day a team of two from Hog Roast Kilkhampton arrived at the wedding reception venue several hours before the serving time. The duo worked hard together to make every single dish fresh on site, so that when the buffet was served at 6pm the platters of food would be ready to be enjoyed by all.
As part of the bespoke catering package the clients built with the team, the Chef and assistant from Hog Roast Kilkhampton would serve the wedding cake onto plates for the guests once it had been cut by the clients.
The whole event was beautiful and the clients were very happy. After all the wonderful food had been enjoyed the catering team discreetly tidied away, taking with them any rubbish and the reusable cutlery and crockery the clients had used.