A hot hog roast Lydford cooked and carved in front of you and your guests is a great way to celebrate any occasion, but this is especially true when it's achieved using fresh, quality, local ingredients. Our standards are particularly high, and we take much pride in our food catering services – especially our scrumptious roasts, which we have perfected over many years now. As they say, the proof is in the pudding, and the original saying is that the proof of the pudding is in the eating, which is what our new customers Kelly and Nick had to do to find out just how delicious our food really is.
For their 10th wedding anniversary party, the couple asked us to cook one of our winter warmer hog roast Lydford specials for their 25 guests. The winter warmer is a menu of your choice of meat and veg, served on higher quality disposable plates, and Kelly and Nick decided they wanted to try a hog roast Lydford for the first time. They selected their favourite vegetables for the meal, so that was carrots, green beans and sweet potatoes to roast together in olive oil. Additionally, Kelly asked us to cook a cauliflower cheese dish that would both serve most of the guests as an extra side, but would also provide one of the guests with their vegetarian main course.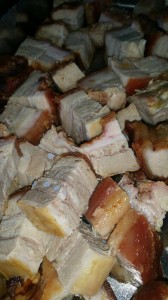 Several hours before food service, we arrived at the village hall venue which had also been used for their wedding reception years before. Cooking a hog until it's ideally crispy on the outside and juicy and tender on the inside takes time and patience, so we got to work preparing the meat for its roasting outside in the grounds. While it was simmering away, the couple arrived to decorate the hall and they couldn't believe the gorgeous smells that filled the air. The aromas always tend to get our customers and their guests licking their lips in anticipation, as it did with Kelly and Nick, but they had to wait until teatime to try a bite.
Once the hog and vegetables were all done to perfection, and all the guests had arrived, it was time for the 'proof in our pudding' and it was clear that we didn't disappoint the happy couple or any of their guests.