This week we got to showcase that though hog roasts are somewhat obviously our main speciality, we are not a one trick pony. We are consummately capable of  roasting a hog to perfection, as our many satisfied customers will attest, but we also offer variations in our menus and pride ourselves on being able to create bespoke provisions to ensure we meet the needs of our clients as closely as is feasibly possible.
One of the aspects of a hog roast Spreyton  that often gets overlooked is the crisp, freshly prepared and tasty salads we provide to ensure that the main attraction (the delicious slices of hot from the spit meat) is not undoing the requirements of a balanced diet.
So on Wednesday, we went into action in Spreyton to assist a marvellous individual, Jennifer, who had contacted us with an eye to catering for a joint celebration in honour of her daughter's recent matrimonial engagement and successful completion of her PhD with a hog roast Spreyton. As part of the provision, Jennifer was understandably keen to make sure that her daughter's guests would be catered for and was aware that a few of them were vegetarians.
Jennifer's daughter Lucy was apparently keen to avoid a scenario where the non-carnivores wouldn't be presented with some kind of what she described as 'afterthought salad', which presumably is the kind of dish that vegetarians encounter as a form of dietary tokenism.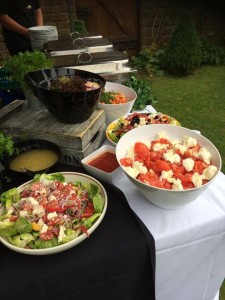 But we're not in the business of creating unhappy guests, so we consulted extensively with Jennifer and Lucy prior to the party, and on the day, after we'd set up our custom spit-roasting machines with a modest hog and a few roast chickens (all sourced as locally as possible for maximum freshness) we set to work creating a number of vegetable based dishes, including such delicacies as veggie barbecue kebabs with the ever popular halloumi, new potato salad with herbs, home-made tomato and mozzarella coleslaw, homemade 3-cheese quiche, a mushroom and broccoli quiche, marinated corn on the cob and at Lucy's request, a spinach, rice and feta salad with roasted tomato and garlic, a recipe of her own devising which she gave oversight to and assured us had previously gone down a treat with a number of those who were due to attend.
When the food was served, I'm happy to be able to report that though the juicy slices of perfectly slow roasted pork went down as well as ever, especially when adorned with the stuffing, applesauce and crackling nestling in the freshly baked bread rolls, the various salads and veggie dishes were also consumed with gusto by the guests, and not just those who avoided the pork and chicken, as it's arguably the sign of a good salad that it'll be eagerly consumed by carnivorous guests as happily as by those who eschew the hog. A great day for hog roast Spreyton!