We love it when customers return and one in particular we hadn't seen for a few years. One of our loyal customers had emigrated to Australia a few years back and we were sad to see her go but we got a telephone call from her daughter last week saying she is coming to visit and would we come and surprise her with a Hog Roast Totnes we said we would be honoured!
They were having a welcoming get together with family and friends and she said we would be the icing on the cake! We suggested doing beef as it was Mary's favourite and her daughter said she would leave the menu with us as we knew what she liked and we still remembered all her favourites. We arrived mid morning a few hours before she was due to arrive and got to work on the Hog Roast Totnes, all her favourites were being made, beef coleslaw, potatoes salad and our assortments of fresh cheeses that she loved. We were really looking forward to seeing Mary and soon it was time!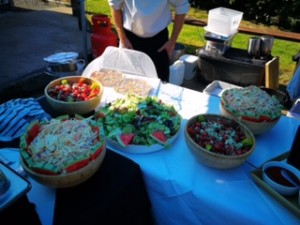 We waited at the gate to greet her and her face when she saw us was full of happy tears and said she had missed our food. We took her into the garden and she took a moment looking at the hog roast Totnes saying we hadn't forgot we said we never would. As she tucked into the beef she said that she had tried hog roasting food in Australia and it wasn't a patch on ours now that did make us smile! The rest of the family all joined her at the table and filled up the plates and it was all laughter and smiles we stayed back and caught up with Mary she was telling us of her great adventures as said she wished we could come to Australia and cater for her regularly we said we wished we could too! it was lovely seeing Mary and it made our day, in Mary we have a friend for life and she said she is going to keep in touch music to our ears!