Come rain or shine here at hog roast Exeter we are out and about the UK catering! Nothing will deter us and we have even catered in snow before. And by the nip in the air lately it feels that in the next month we may well have snow. We have been really busy what with Halloween and bonfire night and now with the run up to Christmas we are busier than ever. We did a 40th birthday at the weekend and catered in a barn the lady was having a good old fashioned barn dance to celebrate her birthday so catering in the barn was very apparent.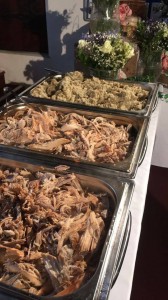 When we arrived we were taken back at the size and scale and we had plenty of room to work in. We placed the large pig on the machine and as it cooked we set out the tables and covered them in cloths and added all the crockery and cutlery and then started on the side dishes we chopped, sliced and diced a mountain of salad vegetables and placed them in large pots we also made a nice creamy coleslaw and some dressings and dips. As the hog roast Exeter was near cooked we scored the skin and rubbed in handfuls of rock salt to make the crackling.
The guests began to arrive and had made the effort to come in costume and as the music played the guests had a dance while we put the finishing touches to the hog roast Exeter. We removed the crunchy crackling and cut it into slices the guests were speechless, as they tasted it and even more speechless when our chef began to carve the pig and then tasting the moist succulent pork, the pork just fell apart so juicy and full of flavour hog roasting retains the natural flavour and no other cooking method comes close to doing. They all enjoyed the food and the birthday girl was in high spirits and said our cooking fitted in perfectly with her birthday theme.
As we left we handed out cards to guests who were eager to find out more of what we do and we chatted to a few who were interested in booking. The event as always was a huge success.