Thirtieth birthday was the event we catered for at the weekend with a hog roast in Okehampton, and the weather couldn't have been better! We headed west and four of us were hosting this party for seventy-five. The customer had ordered lamb and we must boast our meat comes from the UK's best farmer it has to be said. With the lamb we were making mint sauce, roast potatoes and vegetables as a sit down meal as requested by the customer.
Upon arrival the birthday girl met us and she showed us the tables that were all set beautifully just waiting for the hog roast Okehampton. We unloaded the machine; our machines are incredible and take the hard work out of cooking. Simple to use and cooks to perfection every single time. We then loaded the lamb onto the machine and started to prepare the potatoes and vegetables we do everything on site fresh as far as we are concerned there is no other way. We were making our own special thick gravy to accompany the lamb, which again is very popular with customers.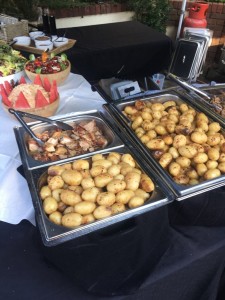 As the guests arrived and took their seats we began to carve and serve. The lamb looked amazing, cooked perfectly and extremely tender and juicy. These machines take cooking to a whole new level cooked as to not dry out the meat but to preserve the goodness and flavours. The vegetables were cooked to perfection with our special roasties! We soon had all the food served and chatted to guests who were intrigued to learn about how the machines work and how the meat is so tender we are always happy to explain the process. We received a firm booking too from a chap wanting a hog roast Okehampton for his brothers 60th at the beginning of next month which pleased us! This chap was wanting to order the lamb again too, now that is a compliment!
Heading home we confirmed the new booking and had the menu arranged in quick time and the chap was amazed at our pricing as we are very reasonable and customers are always very surprised at our cost. It really costs a lot less than one would imagine. We really are happy workers it must be said not may can say that but we are!