The nights are drawing in, the leaves are changing colour, the temperature has dropped and the shops have started stocking Christmas goods already – and it's still only October! If, like the supermarkets and local shops, you're starting to plan Christmas and you're thinking of having a party, whether at home, work or another venue of your choice, we can provide a lovely winter warmer catering menu with a Christmassy theme. With a tasty turkey spit roast and delicious mince pies, you can celebrate your occasion of choice in style, while leaving all the hard work and stress to us, as well as the pesky clearing up and washing up. Plus the hot mulled wine we serve makes this menu even more of a festive winner.
Right now, however, even though it's still autumn, we also have a winter warmer menu of hog roast Hatherleigh and veg that'll also keep you toasty outside in the cold air. You can still enjoy a hog or spit roast outdoors at any time of year, and for Julian's birthday party yesterday, we provided the hot food catering at his local stables. As you might expect, this was the first time I had catered among lots of horses, so it was a surprise when we found out what the venue would be. Keen equestrian Julian had planned a day of horse riding for his guests for after the hog roast Hatherleigh, "To work off all the comfort food!" he told us, so off we trotted to the venue yesterday, ready to cook up a feast for the birthday boy.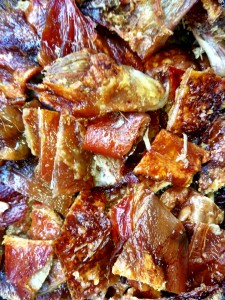 For the small party of 40, Julian asked us to bring a small pig, which we would slowly roast at the stables for a few hours. He also asked us to roast carrots, turnips and swede together, to serve alongside the pork slices and crackling on good quality disposable plates.
The winter warmer went down a treat with Julian's guests, especially as there was a cold, biting wind yesterday, so everyone needed warming up with hot food. Even I wished I'd worn thermals! The hog cooked splendidly and tasted amazing, as agreed by the entire party, and gave everyone something truly special to remember.