What better way to spend Easter Sunday than tucking into one of Hog Roast Tinhay's delicious buffets on the quayside with a tranquil river view? That's what we were asked to provide this year for a rowing club, to celebrate what they assured us would be their victory in their annual Easter race. We like a bit of confidence!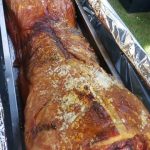 So whilst the aquatic athletes were giving it their all further down the river, Hog Roast Tinhay were waiting at the finish line to greet them with a tempting selection of freshly prepared salads and slow roasted pork. Timing, hard work and determination are the key ingredients for success in competitive rowing, and we apply these same principles to the service we offer. Our catering professionals work as an efficient team to prepare everything to perfection and ensure we are ready to serve exactly when you want us to.
The team captain had every right to be confident about his rowers' chances of victory, because they did indeed come in a very resounding first place! Meanwhile, our own well-trained and highly skilled team had everything ready for the rowers' triumphant return. Exhausted and elated, they clambered back on shore, feeling completely drained. But as tired as they were, the tempting aroma of our slow roasted meat, started to rejuvenate them even before they tasted it and they suddenly found enough energy to rapidly advance towards our serving table!
The atmosphere was very upbeat as the rowers tucked into our hearty fare and they soon forgot about their aching muscles! Finally able to relax and enjoy the moment, the team devoured everything we put in front of them after working up such an appetite out on the river. They relished having such a treat after being on a strict regime for so long and they certainly made the most of it, with all of them coming back for seconds, and in some cases, even thirds! They all agreed, that apart from winning, being fed and waited on by Hog Roast Tinhay was the perfect way to end the race and celebrate their victory on the water!