Saturday we were catering for yet another Wedding. Weddings are now by far our most popular catering event at Hog Roast Tavistock. This one was being held at a beautiful castle and we were catering outside in the beautiful courtyard and the weather was so kind! When we arrived the groom's father greeted us and he looked very nervous trying to organise everything we told him not to worry and to go and enjoy the day! We were making pork and beef and it was a sit down meal we were making all the trimmings, which consisted of new potatoes, carrots, sweet corn and gravy.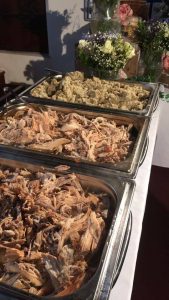 We were making some prawn cocktails and a dressed salmon for starters and some lovely fruit quiche, which we baked fresh before we arrived. Setting the tables is a job we love to do we bring with us the finest of crockery and cutlery and cover the tables in crisp white linen everything was looking immaculate as the wedding party arrived and took their seats. Our Hog Roast Tavistock waiting staff all looking immaculate in their white aprons set about mingling and serving the guests. The staff were receiving lots of good feedback about the food and we aim to please at every event. The pork was so moist and cut in large thick slices and just fell apart when cut as did the beef so very tender our meat is never ever tough our machines cook the meat perfectly time and time again and take the hard work out of cooking. The whole meal went down well and we as always did an amazing job.
When all the guests were fed the groom's father came over with a huge smile on his face saying we did them proud! Such nice words he looked so much at ease now from earlier in the day. The wine flowed as we packed up and the bride and groom couldn't thank us enough for making their Wedding day a huge success with our Hog Roast Tavistock. And we told them both it was our absolute pleasure. We left too with huge smiles on our faces job satisfaction it simple can't be beat!