If you've been thinking of hosting your own hog or spit roast and cooking the meat itself by yourself, Hog Roast Ashburton will show you the ropes. A rental package with us includes our knowledge and expertise, as well as a drop-off and collection service to the venue of your choice, and we even leave you with instructions for when we leave – just in case. Using one of our range of hog roast machines is actually a lot more simple than you might think, and our equipment does all the hard work while you take all the credit, but we still like to ensure our customers are confident in using it before we leave you to it.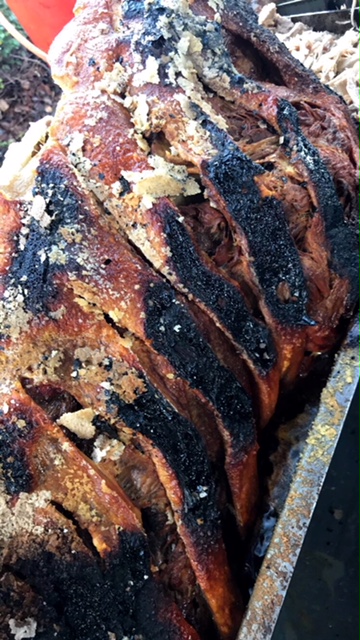 When Roan called us to book our catering services over the summer, he also asked us about our rental service too, and when we catered his party then, he mentioned it again so we knew he was keen to cook a hog roast himself at some point. He's been looking for a special occasion to do just that ever since and now that his wife is expecting their first child, he wanted to celebrate with family and friends by having his own DIY hog roast at home.
Roan called us to hire one of our hog roast machines last weekend, and also asked us where he could source the meat itself, as he had no idea. Hog Roast Ashburton also offers this as part of our service, if needed, as you may not know where to source your bird or animal of choice, and you may need us to talk you through how to prepare the meat too. Happy with this, Roan booked us in for a hog roast machine rental together with a small hog to feed 15 guests for the baby announcement party.
On Saturday, our Hog Roast Ashburton chef went along to Roan's home, armed with the machine and hog, and it didn't take long to show him how to prep and cook it. He was keen to get going, as his guests would be arriving in a few hours, so our chef left him to it. When we went back to collect the machine, it was clear that Roan didn't want to give it back! We're sure he'll be hiring one again from us soon.