When Hog Roast Lifton is asked to cater an annual St Patrick's Day celebration with a hog roast with a Guinness glaze, who are we to say no? Certainly not us, so on Saturday morning, off we skipped to a local pub in order to set up our equipment and prepare two large hogs for plenty of Irish guests and their pals.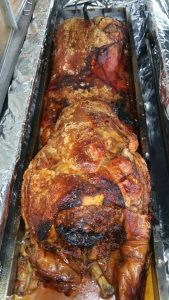 Preparing the meat is my favourite part of my job as a Spitting Pig chef, and on this morning it was even better thanks to the tasty Irish dry stout addition. Like most locals, I'm partial to a pint of Guinness or seven and I couldn't wait for our customers to dig in to our food and see what a hog tastes like when it's smothered in it. After scoring both pigs all over and covering in Guinness and salt (as the latter ensures the skin turns into crispy crackling), all I had to was watch over the beasts as they sizzled away in their own juices and in the juice of the Irish Gods.
Here at Hog Roast Lifton, we also offer a rental service so you can cook your own hog or spit roast, and while these two hogs roasted, we got talking to the pub owner who's thinking of doing just that for a future event. We include a delivery and collection service, and can even provide the meat if required. Customers will often ask for this for their first DIY, as with our catering service, we've spent years getting to know local suppliers who provide us with high-quality birds and animals. If you're thinking of roasting your own for a party or event, Hog Roast Lifton can easily teach you how.
Back to the St Paddy's Day party at the pub and once the two hogs were golden brown on the outside and the knife slipped right through the moist meat when we cut inside, it was time for the guests to queue up for a taste of heaven. We stripped both hogs clean, which is testament to how much everyone loved the taste and the pub invited us back for next year but also booked us in for a machine hire next week!