Last Saturday morning we headed to a 13th Century Medieval Hall to cater for an Engagement Party for a lovely couple Chelsea and Jordan with Hog Roast Spreyton. When we arrived we were blown away at the beautiful gardens surrounding the Hall and the pretty courtyard that we were catering from. The tables were all set beautifully and all we had to do was fill them with food!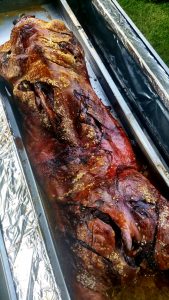 We wasted no time getting started and placed a large pig on the machine to cook, we scored the skin and rubbed in rock salt to create the most perfect crackling. As the meat cooked we began to make the side dishes we chopped, diced and sliced an assortment of salad vegetables and placed them in a huge bowl. We then made some crunchy creamy coleslaw and an assortment of dips and sauces and in particular a garlic sauce requested by Chelsea so told us previously 'It's her favourite!'. We love using the freshest of ingredients where possible as it just adds to the flavour! As the meat cooked we began the task of slicing a mountain of sweet potatoes into wedges we drizzled them lightly in oil and covered them with herbs and spices and set them onto cook on the underside of the machine. We filled the tables with baskets of freshly baked buns and wraps that we had collected fresh earlier that morning. In the centre of the table we placed a large poached dressed salmon and a huge cheese board with every cheese imaginable and lots of home made chutney and pickles.
Our staff stood there and welcomed Chelsea and Jordan and the guests in who were all looking in amazement at the Hog Roast Spreyton food. They all watched as our chef sharpened his knives and carved the meat with ease. The pork was succulent and tender and Jordan said it was the nicest pork he had ever tasted! The guests helped themselves to the food and we had lots of compliments about the food, which did make our day. We all raised a glass to wish the couple well and they told us they had just bought a house and had the Wedding planned for summer 2020 and asked if we would come back and cater for that too with Hog Roast Spreyton? We said we would be honoured! A lovely day was had by all.