We thought the snow was behind us as we headed out last Friday but we were met by a blizzard! But that didn't stop us as we set off early and arrived with plenty of time to spare.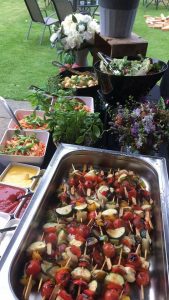 Catering for a birthday celebration and 100 guests for our Hog Roast Sanduck. We wasted no time in setting up out machine and placed the beef and chicken on the machine within minutes the room was filled of the aroma of meat. As the meat cooked we made a lovely pot of stuffing and a nice hollandaise sauce for the meats. The tables were set out and all we had to do was fill them with Hog Roast Sanduck food. We made an assortment of dips a nice hot spicy dip, mild mustard and honey dip and an assortment of salads with dressing to please everyone. We bake our buns and wraps fresh on the day we unpacked them and placed them in baskets. Vegetable skewers are a big hit wherever we go so we made a batch of these using tomatoes, mushrooms, courgettes and cheese placed on the machines they take minutes to cook and are always popular.
When the guests arrived we were ready to serve the Hog Roast Sanduck. The chicken was so moist and succulent and the guests all commented on the chicken as they said they couldn't believe it was so tender. The beef just fell of the bone again so tender and moist and with the hollandaise sauce this was a huge hit too! We love to impress wherever we go and we treat each event as if it's our first and customer satisfaction is key. We had lots of guests asking about future bookings and we handed out some menus lots were saying that they would be booking us for future parties and we hear this time and time again. As we cleared away and headed home we were receiving emails from guests we had just catered for and we were quick on the ball to answer their requests. A lovely day was had by all and bad weather never deters us ever.