Hog Roast Yarcombe's latest client wanted to have an early Christmas party for their office workers before some of them went on annual leave for the holiday season. Client Barry wanted a tasty buffet for his workers to enjoy at the office after hours.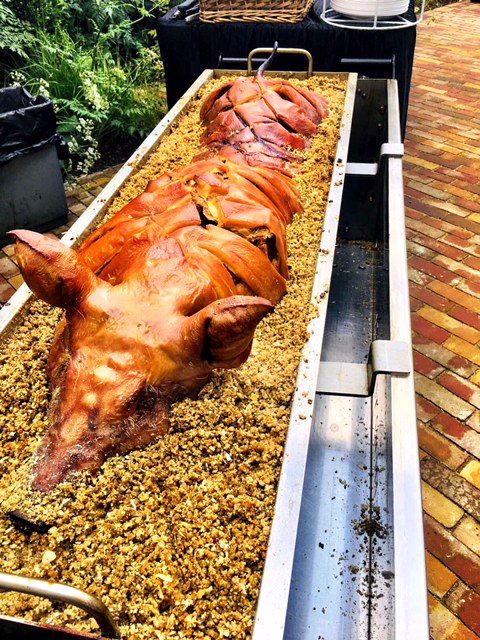 Boss Barry worked with the Hog Roast Yarcombe team to come up with a buffet and catering package that would enchant his office workers and meet his budget. The catering package that was created by Barry and the team included the use of Hog Roast Yarcomb's finest china cutlery and crockery, which would be delivered to and taken from the office by Chef Luke who would be cooking the buffet for the event.
Chef Luke arrived at the office venue for the party several hours before the 7pm serving time. This allowed him plenty of time to set up the catering equipment and serving table. Every dish was created fresh by Chef Luke, and he would stay on site to assist with the serving up of the buffet too.
The buffet had a whole host of delicious dishes, including a delicious slow roasted turkey that was served with fresh cranberries and tasty homemade sage and onion stuffing. There was also a lovely vegetarian lasagne on offer. Alongside these treats there was lots of platters of piping hot vegetables and a very large tray of new potatoes that had been roasted in rosemary and garlic. Finishing off the buffet was a selection of sauces and dips and a basket of assorted soft rolls.
The lucky team of 35 hard workers were thrilled with the tasty buffet! They all had a lovely time sharing a festive meal together, with jaunty Christmas tunes on in the background. Once the buffet had been thoroughly enjoyed by the guests, Chef Luke quietly tidied away, taking all the rubbish off site with him to dispose of responsibly.
Client Barry was delighted with the team's hard work and sent his thanks to Chef Luke. Everything had been perfect, exactly as the team and Client had planned.