Most of Hog Roast Kilve's menu's include freshly prepared salads, made and prepped on site by your chef. 
Hog Roast Kilve provides a range of salad choices for you to decide on. Whichever one takes you fancy you can have. All presented in wooden rustic bowls.  Glass bottles of extra virgin olive oil and balsamic vinegar are popped on the table to accompany the salads if any guests wish to use them. 
The salad options are shown below:
Green mixed salad – a range of lettuces, spring onions, cucumber, celery and cherry tomatoes. A perfect accompaniment to a hog roast!
Hog Roast Kilve catering manager's favourite salad to eat is tomato and mozzarella. Sweet cherry and plum tomatoes layered with hand-torn creamy buffalo mozzarella and fresh, hand-torn basil leaves. Finished with crackled sea salt and black pepper and a drizzle of extra virgin olive oil.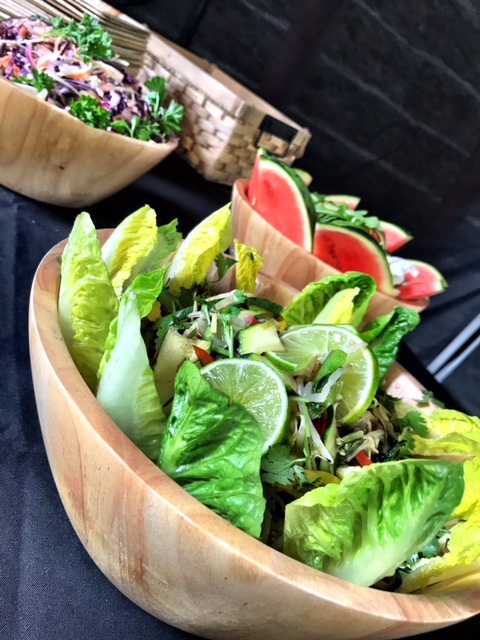 Fun to prepare, homemade coleslaw! White cabbage, sweet red onion, grated carrots and Hellmans mayonnaise with a touch of lemon zest and a squeeze of fresh lemon juice.
Chef's own pasta salad – usually spiralled pasta with either tomato and basil sauce or pesto with pine nuts. Both super tasty and enjoyed by guests. Sometimes we do a bowl of each so that your guests get a choice. Tomato and basil tends to be a favourite with any children guests!
A popular choice, caesar salad. Crunchy romaine and gem lettuce chopped with parmesan shavings, crispy garlic croutons, artichokes and classic caesar sauce – yum!
Greek salad is nice and fresh. A mixture of black and green olives, cherry tomatoes, cucumber rainbows and crumbly feta cheese.
The final choice you can enjoy is a crispy Thai salad. A medley of crunchy vegetables such as carrots, peppers, baby corn and cucumber with an addition of beansprouts, sesame oil and lime juice. It is an abundance of colour and crunch.
Which ones take your fancy? Add them on now to your hog roast.