Hog Roast Seaton has spent years satisfying many thousands of customers, and not just with the sumptuous hog roast centrepieces that we're renowned for. We've always offered plenty of choice and variety, as we know that a hog roast is not everyone's cup of tea, but also because we understand the need for alternatives to suit special diets and we know that you may want a multi-course menu served instead of just one delicious main.
With Hog Roast Seaton catering your next party or event, we will of course adhere to any necessary guidelines but we also go above and beyond when it comes to excellence, and that's with our service as well as our food. We make tasty treats out of fresh, high-quality, local ingredients, including the meat that we source from local farmers and butchers who we've trusted for a long time, and you can be sure that everyone you invite gets to eat gorgeous homemade food when you book with us.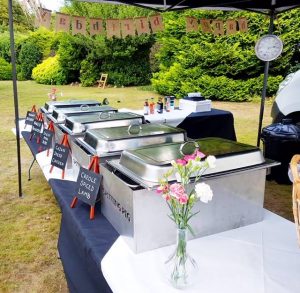 You can request an alternative meat to be cooked instead, if you prefer, such as spit-roast lamb, beef or poultry, barbecued sausages, ribs and burgers, or perhaps one of our standalone menus will hit the spot, like our Southern Slow Roast, Loaded Fries or our new Alfresco Menu, where we serve amazing antipasti platters in addition to a hog roast and desserts. Diets such as vegan and vegetarian are easily covered, as well as ones due to allergies or intolerances, and we can even make our famous pigs in buns gluten-free, simply by taking along suitable bread rolls or wraps (as all the other ingredients are suitable already).
For a corporate booking that we catered earlier today, that's exactly how we impressed two of the guests who needed a gluten-free dish serving and they were so happy that they could enjoy the same scrumptious, mouthwatering pigs in buns as everyone else. Hog Roast Seaton wants everyone to be able to enjoy our food, and on this day, with soft, moist meat, crispy, salty crackling, homemade apple sauce and stuffing, all crammed into fresh rolls and wraps, they all did.