When making an investment it is always best to try and get some experience beforehand to make sure you are making the right decision and to give yourself as much knowledge about the area you are investing in as possible. That's why at Hog Roast Okehampton we offer the option to hire one of our trusty hog roasting machines before you buy one as we want our customers to be happy in the knowledge that they have tried and enjoyed using our machines and that they believe in their ability to deliver such fantastic results.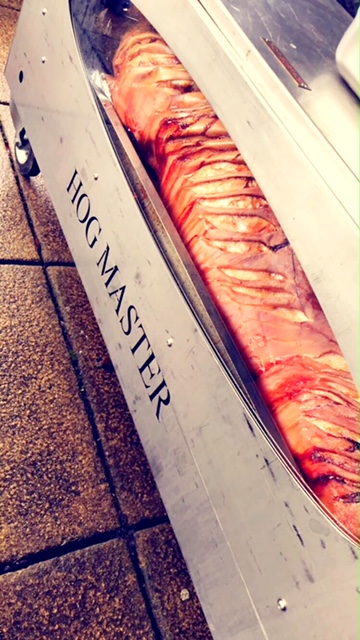 Peter was one customer who made use of our'try before you buy' scheme. He had actually made it his mission to hire out every single one of our Hog Roast Okehampton machines before making a purchase as he told us how indecisive he was and that he also enjoyed using all the different machines and believe it actually made him a better chef! Here at Hog Roast Okehampton we had no complaints and every couple of weeks we would send him the next machine to try and take his review on the one he hired previously.
As a part time caterer Peter was in need of a machine that could serve large numbers of people at times but also one that would still be fully manoeuvrable and portable for his one-man team. This week he was hiring the Hogmaster, one of our classic, most durable machines! In the previous week he had hired the Hogmaster Pro which is the Hogmaster's smaller counterpart but he told us he found he needed something a little bigger for when he was preparing multiple courses at a time, so we believed the Hogmaster would suffice!
One week later we turned up to collect the machine as we always do and found that Stuart was unwilling to part with the Hogmaster! He told us he had fallen in love and knew this was the machine for him. After weeks of indecisiveness this was music to our ears as we were so pleased, he had finally found the perfect machine for him. On the spot he put in an order to take the plunge and buy the machine for himself!